Absätze
Intelligent mobility and road safety education at i-Mobility in Stuttgart, 20 to 23 April
i-Mobility, the intelligent mobility show, took place in Stuttgart between 20 and 23 April 2017. Visitors learned all about the latest developments in the field of mobility. MobileKids was in attendance, with a stand and the popular MobileKids driving school. On 21 April entry was free for schoolchildren, who came in their numbers. Moki issued over 700 children's driving licences.
How will people get from A to B in the future? What do tomorrow's drive systems look like? Which car sharing services might change the way the market develops? And where is the e-bike trend heading? The auto motor und sport i-Mobility show in Stuttgart, a show focused on the subject of intelligent mobility, looked at all of these questions. 
The traffic safety initiative MobileKids had a stand at the show, with a MobileKids mobile driving school, where children could take the theory and practical parts of their children's driving licence. And children turned up in their numbers. Moki issued over 700 children's driving licences. A fantastic result!
The MobileKids team were delighted at the number of children and interested adults who visited the stand. The team were there throughout the show, answering all sorts of questions on how we will all get around in the future.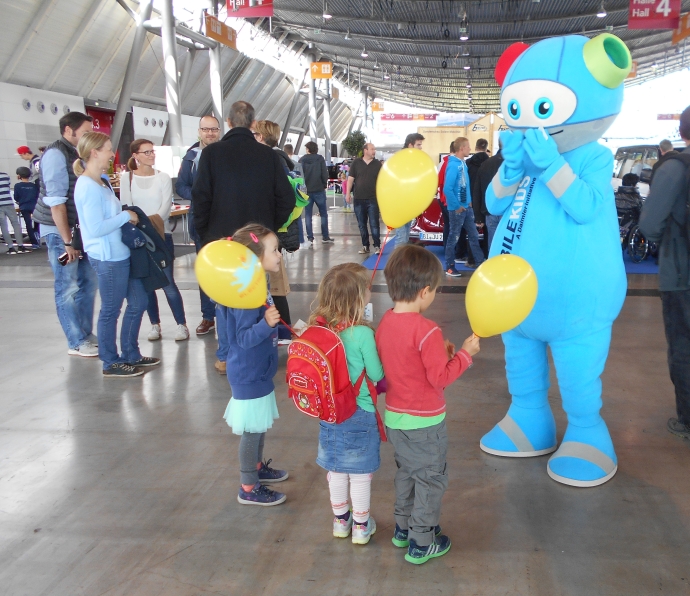 Between 20 and 23 April a whole series of exhibitors presented their new, mobility-centred technologies and ideas. Visitors were even able to try some of them out - on two wheels or four - on the test track provided.